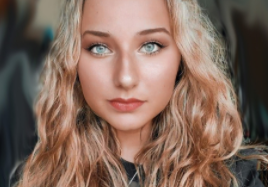 Taryn Patterson in cast of YSU Theatre's latest production
James Rook
Monday, November 16, 2020
Taryn Patterson (Class of 2019) of New Waterford, a Psychology major at Youngstown State University, is a member of the cast of University Theatre's second show of the season, which opens this week.
Elegies: A Song Cycle, will be presented virtually at 7:30 p.m. Friday and Saturday Nov. 13, 14, 20 and 21, as well as 2 p.m. matinee performances on Saturday and Sunday Nov. 14, 15, 21 and 22.
The production will be presented online. Tickets are also available online: $10 for a single viewer; $25 for group viewing/watch party; and free for YSU students, faculty and staff.
Written by Tony Award-winning lyricist and composer, William Finn, Elegies is a song cycle that addresses memory and loss with both compassion and humor. A song cycle is a group of songs designed to be performed in sequence as a single entity.
"In Elegies we found a show full of opportunity, infused with hope, and practical for the times," said Maria Fenty Denison, program coordinator of YSU Musical Theatre. "Due to current safety protocols for theatre, students gained training in fields that they may not have otherwise. The dedication of the creative team has been incredible, and we are grateful for their hard work as we make this performance come alive."