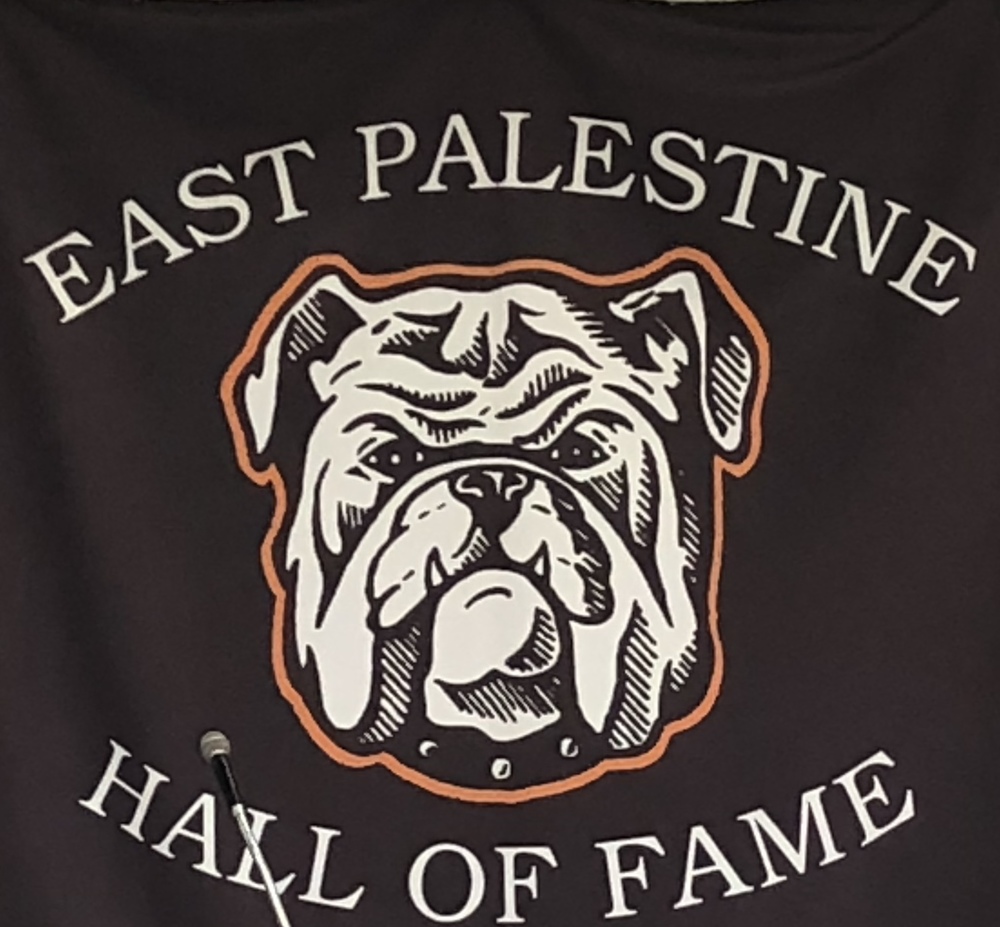 East Palestine Distinguished Hall of Fame
James Rook
Sunday, January 26, 2020
East Palestine Schools welcomed nine new members into its Distinguished Hall of Fame this past weekend. After being honored during the boys' basketball game on Friday night, the inductees took to the microphone on Saturday afternoon to share their experiences and thank those who made their dreams a reality. The 2020 class included inductees who notably served in various branches of the military, excelled in athletics, politics, education, and graciously completed tireless community service. We thank these individuals for their many accomplishments and for calling East Palestine home. Welcome to the East Palestine Distinguished Hall of Fame.
Jonathan Allison: A 1986 East Palestine graduate, Allison was a Rotary exchange student. He received his law degree from the Ohio State University College of Law. Since graduating from law school, Allison's career has focused on public service and public policy. In the public sector, he has worked in the Columbus City Attorney's Office, the Ohio Secretary of State's Office, the Ohio Department of Commerce and the Governor's office and served as Chief of Staff to Governor Bob Taft. Allison is now the General Counsel at Root Insurance Company.
Vaughn Brunson: A 1977 East Palestine graduate, Brunson prided himself in all things "East Palestine" and knew everyone. He was a natural entertainer and although he never sought attention, his humor, historical knowledge of TV, music and spot on imitations gained him favor and friendship with everyone. Brunson was selected to be the basketball "Voice of the Bulldogs" and was asked to be the yearly announcer for the Columbiana County Basketball Classic. A virtual encyclopedia of sports information, Brunson could often be called upon to settle a sports bet or argument. He enjoyed fishing, attending concerts and just being around East Palestine.
Jeff Geiss: A 1994 East Palestine graduate, Geiss graduated from Mount Union with an Elementary Education Major and Computer Science Minor. He received his Masters of Education from Youngstown State University. While attending high school, Geiss received All Ohio Honors in Cross Country and Track. While attending Mount Union College, he received five Ohio Athletic Conference Track Wins and three Ohio Division III track wins. He was a two-time NCAA All-American Honor recipient in Cross Country and a member of the NCAA Runner up National Championship Cross Country Team. Geiss currently teaches middle and high school computer classes at East Palestine.
Patrick Hannum: A 1972 East Palestine graduate, Hannum graduated from Youngstown State University, attended U.S. Army Command and General Staff College, Old Dominion University and Capella University. He served 29 years with the U.S. Marine Corps, where he served in all four Marine Divisions. His worldwide service included numerous staff positions including Commanding Officer. He retired as a Lieutenant Colonel. He has had 44 years of service to the nation and the Department of Defense. Hannum is now serving as a professor at the Joint Forces Staff College, National Defense University.
Tom Leetch: A 1964 East Palestine graduate, Leetch graduated from Akron Barber College and is a barber in East Palestine. He joined the US Army and received the Bronze Star Medal (First Oak Leaf Cluster) for Meritorious Service for heroism in connection with ground operations in Vietnam. His company became heavily engaged with a Viet Cong force. Private First Class Leetch moved forward through heavy enemy fire to within twenty meters of the insurgents' position, exposing himself to hostile fire, while placing effective fire upon the enemy, allowing his comrades to maneuver to the insurgents' flank. He then assaulted an enemy bunker and rolled a hand grenade into it, allowing his platoon to overcome the enemy forces. He recently was inducted into the Ohio Veterans Hall of Fame for Valor in May 2019. Leetch serves as Commander of the VFW Post 4579 and is a member of the American Legion and the local military honor guard.
Chaney Nezbeth: A 1988 East Palestine graduate, Nezbeth graduated from Youngstown State University. While in high school, she played volleyball, basketball and track, earning nine varsity letters. She set track records in five events and was All-Ohio Honorable Mention in Volleyball. She was a member of the District Championship Volleyball Team all four years. She was a member of many groups, including Student Council and National Honor Society. Nezbeth continued her volleyball career at Youngstown State University, where she was nationally ranked in jump serving. She has worked in the non-profit industry as a professional fundraiser for Habitat for Humanity and Youngstown State University and is currently the Executive Director for The Way Station in Columbiana, Ohio, and volunteers with many organizations.
Allison Oltmann: A 2000 East Palestine graduate, Oltmann graduated from Robert Morris College with a BSBA in Marketing and a Masters Degree in Business Administration at Youngstown State University. While in high school, she was a four-year letter winner in both volleyball and basketball. She set seven volleyball records with six still standing today. She was a two-time Division III Player of the Year, All Ohio Honorable Mention her junior year and All Ohio 2nd Team her senior year. While attending Robert Morris College, Oltmann was a member of the volleyball team and joined her team as Northeast Conference Champions and NCAA Tournament participants both years she played. Oltmann is a Parent Mentor and a member of various committees at Akron Children's Hospital. She is currently a Corporate Sales & Operations Planning coordinator for Compco in Columbiana, OH.
Greg Reeves: A 1970 East Palestine graduate, Reeves attended Mount Union and Bowling Green State Universities, received his MBA from Youngstown State in 1984, and completed additional graduate work at Youngstown State and Kent State University. His service to East Palestine City Schools began in 1974, where he has served as a teacher, assistant football coach and administrator. He retired after 37 years of service. In 2011, he was awarded the Columbiana County Educational Service Center "Outstanding School Leader Award". In 2013, he returned to the district with the Columbiana County Educational Services Center and today continues to support the district as a technology integration specialist. Aaron Walker: A 2000 East Palestine graduate, he was a four-year letter winner in baseball. He holds five high school pitching records, and was a member of the Tri County League Championship Team in 1998. Walker was chosen First Team All-Tri County League three years and was First Team All-Ohio Division III his senior year. He attended Georgia Tech University on an athletic scholarship and pitched four years going to the College World Series in 2002 and winning the ACC Championship in 2003. Walker was drafted by the Tampa Bay Devil Rays in the 2004 MLB Draft and pitched four years in the minor league system. He has been the pitching coach at East Palestine High School since 2014.